Before this summer, I've never been to Australia before. Well, I was raised in New Zealand and moved around a lot throughout it's two islands. But even though Australia and NZ are like sisters, I have never ever been to Oz. But then, this summer came and I was thrilled when family decided to go under for our holiday break from school and work.
Sydney was awesome. Like, sorry Sydney residents, but I totally underestimated the city before I came. Thought it would be ordinary. But wow, I was really pleased there. The city was so tidy it looked so artsy. We arrived early morning and on the way to the Opera House, people were running and walking their dogs. Some were holding coffee cups and rushing somewhere. And oh! There were cute little vintage houses all across the streets, it was so nice to see in the middle of a big city like Sydney! Too bad I was too busy being amazed I didn't get any photographs of the cute houses, I really should've! Sorry.

The Opera House

We were only in Sydney for a day and next day we traveled by bus to Brisbane then to Gold Coast. On the trip, we met so many interesting people. And wow, there are so many Indonesians in that country! Hahaha. It was odd walking down a street of another country and hear someone behind you say "Ah! Bete banget gue, masa dia nggak punya kesadaran sama sekali sih?!"*. I was like, am I at Pondok Indah Mall** or something? Hahahaha. Weird but funny experience. In Gold Coast, me and cousins went out a lot. We stayed for four nights and there weren't much to do if we stayed laying in the hotel. Every night, there'd be a different funny story. And it was during the 2010 FIFA World Cup, so I definitely had to watch the matches! (I rooted for Spain and was sooooo happy when they won the championship!). So those funny stories I mentioned, includes a drunk man throwing water bottles at my cousin and aunt, then another drunk dude sort of hitting on my sister but in an odd way, then another drunken night in my hotel room where my cousins, uncles and aunts gathered in my hotel room and took advantage of the only smoking-allowed floor. Now after I wrote this, I just realized that every funny story I mentioned had something to do with alcohol. But anyhow, let's move on.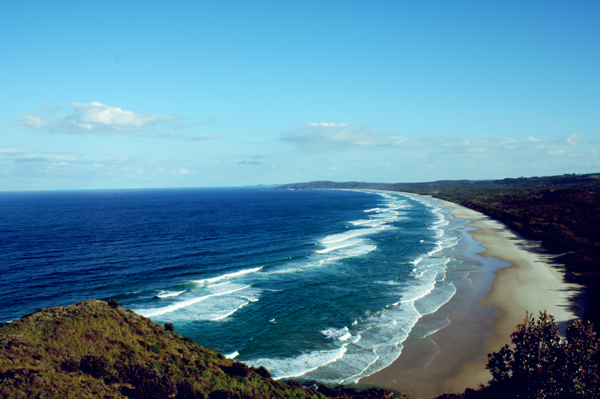 Beautiful beach of Gold Coast

Drinking in my room - Before
Drinking in my room - After! LOL

In Gold Coast, we went whale watching, which was aaaamaazing! Hand downs, one of the most beautiful scenes I've ever seen. Watching the whales migrate from Aussie's cold winter weather to somewhere warmer. They were lovely. Then we went to two theme parks. Dreamworld and Movie World. I wasn't really enjoying Dreamworld that much until the end of the day when I met the cutest kangaroos out of cages and wandering around the animal park. Allowing us to interact directly with them. We could pat them too! Some were even kangaroo mothers with babies in their pouch. Then I met Jake. Jake is a three year old koala. As I've learned, koalas love to hug. And Jake was a big hugger. And I'm also a big hugger. So after taking some photos, it was hard to let go of each other. Hee hee, I'm such an animal person. Meeting all the animals totally made my day.

Jake the hugging lover koala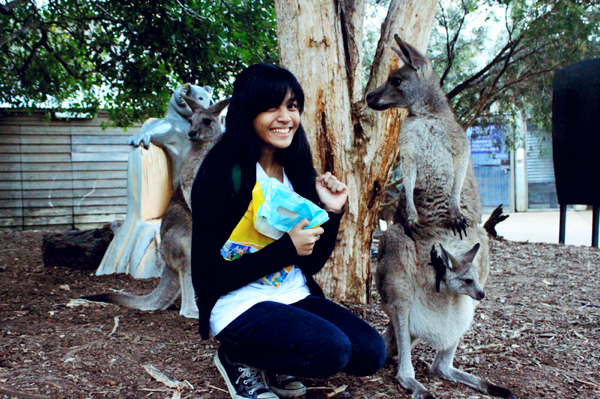 The Superman Escape
Me, enjoying the best snack in the world, Churros!

But then Movie World was definitely the highlight of my Aussie trip. The climax of my holiday. Me and my sister, Sky, are roller coaster junkies. As matter of fact, we are "adrenaline booster" junkies. When it comes to theme parks, we would ride anything that looks scary. You name it. We've been traveling a lot growing up and every time we encounter a roller coaster or anything that looks death challenging, we'd take a chance to put the experience into our long resume of freaky rides. So at Movie World, we went nuts and went on every scary ride. The Superman Escape roller coaster was definitely scary, it was so fast I could feel my cheeks shudder crazily. But, that day, I rode the scariest roller coaster I've ever came across. Lethal Weapon roller coaster. It was more petrifying than Space Mountain and Tower of Terror which were at on top of my list. Me and Sky spent 2 hours of standing in line to ride Lethal Weapon, but only 1 minute on the roller coaster and then when we got off, we literally couldn't talk because the rush just wasn't out of our system yet. And me? Other than almost peeing in pants, I walked wobbly towards the exit. I couldn't keep my legs straight! It was hilarious!
P.S: Next post, stories about when I went to Melbourne and more photos to come with it. Stay tuned. Hugs.
* A sentence in Indonesian, casual language used by most Indonesians. Translation: "Ah! I'm so annoyed, how could he not have any consciousness?!"
** Pondok Indah Mall is one of the hippest malls in Jakarta, Indonesia.